We recently bought a Veeam Availability Suite v8 Enterprise edition, we absolutely love this solution, it is simple and effective. In the era of applications written in Java positively distinguished by low demand for resources and speed. In Veeam Backup, on our View environment, deduplication ratio achieved x3,7 (for "thick" machines intended for developers). We are also holders of extensive private cloud based on vCloud Director, the ability to safely perform a backup of the environment is very important to us (and this functionality has Veeam Backup).

Recently after a few backups noticed (thanks to Veeam ONE) that several machines managed by vCloud Director shows "Virtual machine disks consolidation is needed". Unfortunately attempt to make drive consolidation ends following messages (An error occurred while consolidating disks: msg.snapshot.error-DISKLOCKED, An error occurred while consolidating disks: msg.fileio.lock.):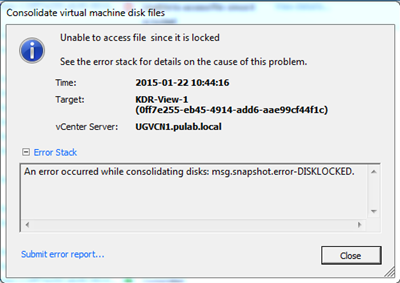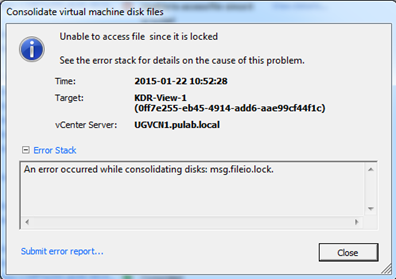 Checking the machines themselves no results (no locked files), led me to solve this KB and early experience with VMware Data Protection (where the same error). Both solutions, Veeam and VDP, use the same method. VM drives assemble to the Veeam machine directly, create a snapshot and copy the data. If any of these processes is interrupted (eg. A network error), the backup fails with the error and the drive is not "unmounted" from the Veeam machine. You can check this very easily in the settings of the backup server:
All crossed the disks are the remnants of failed backups. Just delete them to drive consolidation was completed correctly.

Interestingly, in our case, all the backups with vCloud Director vApp completed correctly! Veeam Backup has not reported a single error associated with this task.