No, this is not the so-called entry. smart home, it will be an entry about new technologies and how they fasten together everything just to impress your mother-in- :)
Fasten? And specifically what and what and how? Imagine a situation in which the image (delightful mother-in at obiadku) taken with our camera (generally, any) a few seconds later you can see on the TV screen and print from your tablet on our printer. Sounds good? And when it does, our non-technical girlfriend or wife without our involvement? Well it's poetry :)
The world of consumer electronics goes slowly toward unification, but the process is slow. The blame can burden the one hand, the so-called. ordinary people, for whom a password such as " WiFi Direct "is completely empty, and the other producers who do not educate consumers (for a invent catchy names (eg Mirror View (Sony) is nothing like WiFi Direct) for standard and universal solutions ). Therefore, the most even as someone already has a home beginnings of the "digital living", it is usually not even aware of what is and how he could use this.
At the moment we have a whole group of proven technologies such as Bluetooth , DLNA , Wi-Fi Direct ( WiDi ), and devices that can have very smooth to use. And as imagined in the "old" days, you can see here .
Let us assume that at home, the world of consumer electronics consists of a set (available as "normal" money) which includes:
TV (of course, in "Smart")

Receiver (eventually cinema, but under certain conditions)

Blu-ray player or games console

Laptop

Tablet

Printer

Camera (DSLR as a challenge in connecting)

NAS (not just as a network drive but also as a media server)
When choosing equipment should be guided by the following criteria:
Smart TV with just one processor (a richer version of two or more), support DLNA, WiFi, WiFi Direct and WiDi, the ability to connect a network cable to the existing infrastructure at home (optimal but not necessary) so. "PC connections." Supports HDMI 1.4 is absolutely crucial input card (CIM will cancel the cable box or satellite receiver). Receiver or home theater should support HDMI 1.4 technology ARC (audio return channel), so you can be the use of one remote control both devices, 3D discretion (this also applies to the TV).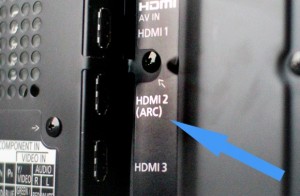 Bluetooth support via the receiver natively or via an external adapter , well seen the ability to connect to a network (Ethernet cable) or WiFi. The next element will be the U.S. (or other media server), as they are usually quite expensive sets (you still need to buy disks), it is worth considering a moment and invest in decent equipment. I suggest here Synology DS214play example , the possibility of installing two large disks will basically unlimited collection of photos, music and movies. Added to this is the media server that allows transcoding on the fly image (ie paste subtitle file in the image), and support for mobile devices Andorid, iOS (including the Internet). It is all these devices connect "the cable" using "twisted" and not WiFi (watching 3D movie from NAS on TV is practically not feasible). If you do not have outlets scattered all over the place, you can buy the smallest, 8 port switch or router to connect all of our internet service provider (usually have at least 4 slots) or use a combination (eg modem in the hall, switch the TV).
When buying a tablet, choose an essential model equipped with Wi-Fi Direct and Bluetooth, buying a laptop, be sure to make sure that it supports WiDi. The distinction is evident Intel WiDi is a technology that does not exist in the segment of tablets. WiFi Direct is the equivalent of Bluetooth (some even say that the successor), and not all can use it to upload. When buying a printer is not worth looking at traditional models of "Cable", let us buy only those equipped with WiFi (Direct) or even those that support Google Cloud Print (it will allow trouble-free printing all the pages from the browser to work directly on a printer at home). In the case of the camera, we have to choose either a traditional DSLR (and all the older, smaller cameras), no support for WiFi Direct or newer such as the Sony NEX bezlusterkowce support of the above. technology. If you have a traditional camera which you can insert an SD card that nothing is lost, you can buy a card that supports WiFi, such as Eye-Fi.

How does all this look like in practice? Let us return to the example images in-law:
The photo was taken with Nikon D90 equipped with Eye-Fi card. Card, being within a home WiFi automatically send a RAW image (for further calls) on our NAS. We take up a tablet (eg Sony Xperia Tablet Z), run the Eye-Fi app and use it to charge your tablet image in JPG format. The screen is too small? Nothing simpler, just one swipe of your finger sending (Throwing) picture on the TV (eg LG 47LM, paired before the WiFi Direct). Picture came out great? With a flick of a finger print them on our photo printer ( Canon Selphy CP900 for example , Canon EPP application on Android). For greater climate touch Bluetooth icon on the tablet and have music playing on the big speakers (receiver (previously paired with the tablet) automatically switches to playback mode when you connect any device). A picture may require amendment? Fire up your laptop and our favorite editing program (eg Lightroom), connect via WiDi TV (throw your laptop screen on TV without cable) and listening to Italians and outrage we begin to improve, pish. photo editing and so on and so forth, examples can be multiplied indefinitely.
This entry is more incentive (than manual) to posprawdzania what we have at home (load in the specification and documentation) and to ascertain whether the newly purchased such as television has everything you need. Because it just so happens that the future "without wires", where all devices (really different manufacturers) talking to each other, is here and now, but often just do not see it. Questions?