Today in our Lab I decide to upgrade my F5 BIG IP VE from 11.5.1 to 11.6 (in connection with the first hotfix 1.0.403). So far, I raised version just by uploading the hotfixes to 11.5 ( We start from this version). The procedure for upgrade the full version turned out to be less standard, after a reboot, it turned out that the TMM and web gui do not want to start (the endless message "Configuration utility restarting"). After a check in the log, I found this:

The first time I met with the message "Software version not covered by the service agreement. Reactivate license before continuing. " Additional information "License is not operational (expired or digital signature does not match contents)" may already scare (if apply to the production system). Finding the right KB is not difficult, as it turns out, upgrading the software version of the full number required prior to reactivate the license. Table of dates is as follows: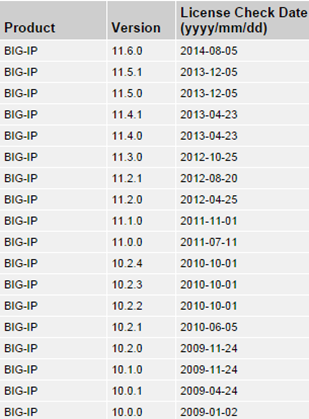 First we need to check your own license:

Reactivation can be done in two ways, the traditional method via the web GUI (System-> license-> Reactivate) requires us to return to the previous version of the software (on the cli switch back using the switchboot command). When F5 has access to the Internet, the web gui method is fully automatic. The second way is, of course, the command line, the procedure is similar to the "manual" from the web gui. Issue the following command:
grep -i "Registration Key" /config/bigip.license
get_dossier –b ABCDE-ABCDE-ABCDE-ABCDE-ABCDEFG (our key)
The value of the dossier paste on https://secure.f5.com/Infopage/index.jsp webpage.
Turned conntent paste to file /config/bigip.license (overwrite the contents, it is worth to make a copy of this file).
Finally, issue the following command: reloadlic
After reactivation, we can re-check license:

This is higher date than that from the table, the upgrade can be performed without problem.
At the end of the note, the reactivation of the license will reload the configuration and make the unavailability of the system (including TMM) for one minute. Unfortunately, in my case, something hang in the F5 after reactivation (looped messages emerg logger: Re-starting dedup_admin and logger: Re-starting dataStor), I had to restart the entire F5. Plan your maintenance carrefully, the break may be longer.