Using in our environment EMC Celerra (NAS) and CIFS/NFS shares, sooner or later you will need to backup data held there. Such solutions can be archived using the Network Data Management Protocol (NDMP). The author of this protocol is NetApp, after a series of purchases its owner became EMC, however this protocol is available to all and now use it all the companies involved in archiving. We'll meet him at IBM Tivoli, EMC Avamar, EMC NetWorker, Symantec NetBackup, Exec, and many others and in the open source like Bacula and Amanda. Described by me below configuration is based on Avamar Server 6.1 (Virtual) and VNX for File 7.1. The configuration for Avamar Server 7 and VNX for File 8.1 is exactly the same, EMC Avamar 7 additionally supports the EMC Isilon backup via NDMP. Topology of the entire solution is the case:
Of course, Avamar NDMP Accelerator is nothing but a Linux server installed RedHat 4 distribution (or compatible) with the installed packages AvamarClient-Linux and AvamarNDMP-Linux. These packages can be downloaded by going to https://avamar_server and in the section "Documents & Downloads" looking for NDMP position.
RedHat 4 can be installed as a minimum system, we need only SSH. If you plan to perform simultaneous copies you need to configure the server with 8GB of RAM, otherwise 2GB is enough. Install packages by command: rpm -ivh package.rpm. Before configure NDMP, we need to log into the EMC VNX Control Station as nasadmin, do "su root" and create ndmp user, the command looks like this:
/nas/sbin/server_user server_2 -add -md5 -passwd ndmp

The NDMP service on EMC Celerra is enabled by default. To make copies simultaneously, we need to spend extra command on Control Station:
server_param server_2 –f NDMP –m snapTimeout –v 30
Next return to the RedHat console and issue the command avsetupndmp, sequentially giving the necessary parameters ::
/usr/local/avamar/bin/avsetupndmp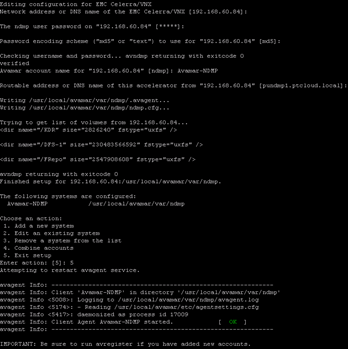 Avamar account name is nothing but the name under which the Avamar client is visible under Avamar server. If everything goes correctly, we issue the following command:
/usr/local/avamar/bin/avregister

Put Avamar server name, and the domain where register the client (defaults is "clients"). If everything goes correctly, in the Avamar Server GUI we can see NDMP client and all active shares.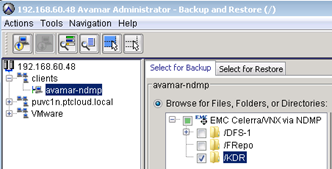 And all this, in a further step proceed with NDMP as with any other client. Performing backup to EMC Celerra snapshot is executed (function SnapSure) of a given file system. If in a given file pool has no free space we can meet up with a "NDMP: SnapSure file system creation fails." message.

Verification we can carry out in the Control Station command line, make fs_ckp (create manual snapshot):

As you can see, out of space, now go to Control Station GUI and increase the amount of space in the file pool.